News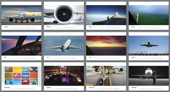 Series best photos Next: SEA B777F - "From the first bolt to the first jolt"
Welcome to the cockpit
ONE Cockpit | TWO Pilots | SIX Cameras
Experience the fascination of flight – through the pilot's eye.
Captured in Full HD from takeoff to touchdown, PilotsEYE.tv presents the most breathtaking, interesting and exciting moments of air travel in feature film length episodes. Take your chance to jump into the pilot's seat.
Current flight path
- Seattle 777F
More information
Highlights
– Boeing Factory Everett – The largest building in the world (by volume)
– A Dreamliner's dream landing – A close look at this very special plane
– The money has arrived – how to buy and pay for a 300M plane
– Cockpit tour with Boeing's chief test pilot Gary Meiser
– Pushed to the runway – No Taxiing in Everett
– Rocket launch – 13 Minutes from 0 to FL 390
– Warm Welcome at Frankfurt Airport
– C1 – Customers' first test flight
– Cockpit and iPads – Developing a serious relationship
– Jobless – The Autopilot dislikes delivery flights
– Pre-production – The Pilots on their way to SEA
– Main gear 777 – The Largest Landing gear on a commercial plane
– "Buying back" glitches – The last touch ups before delivery

– Outtakes / Bonus (TBA)
Flight data
Flight no.: GEC8145
Aircraft: Boeing 777-200F
Run time: 100min
Crew
Chief Pilot | Captain
Claus Richter

Captain
Manfred Schridde

Senior First Officer
Markus Fritze