News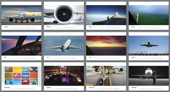 Series best photos Next: SEA B777F - "From the first bolt to the first jolt"
Welcome to the cockpit
ONE Cockpit | TWO Pilots | SIX Cameras
PilotsEYE.tv shows whole flights from the perspective of the captain and his first officer.
This breathtaking views are realized with 6 high definition cameras, they see everything from the spectacular outside to the authentic inside of a cockpit. In the final version, which will be between 60 and 90 min., you will see the most interesting and fascinating moments between takeoff and landing.
Current flight route
- AirLounge ONE
More information
Highlights
BARRY SUNSET DEEP
FAR AWAY CLIMAX
FACE TO FACE
DUBAIRALSEA
RAINY MIAMI
NIGHTLAND
HIP ALPS
PALMADIVES
SFO CONTROL
POLAR SOUNDS
GHOSTS OF SATIE
JUST THE TWO OF US
COMING HAM TONIGHT
Flight data
Flight no.: Various
Aircraft: 320/321/748/388/332/
Run time: 85min
Crew
Chief Pilot | Captain
Thomi Frick, SWISS

Senior First Officer
Conny Ollinger, Austrian

Chief Pilot | Captain
Joe Moser, AeroLogic
Images