News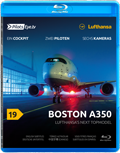 A350 "Lufthansa's next Topmodel" smoothly landed. Video on demand available Coming up 2018 - "Joe's last night in Bangkok"
Welcome to the cockpit
ONE Cockpit | TWO Pilots | SIX Cameras
Experience the fascination of flight – through the pilot's eye.
Captured in Full HD from takeoff to touchdown, PilotsEYE.tv presents the most breathtaking, interesting and exciting moments of air travel in feature film length episodes. Take your chance to jump into the pilot's seat.
Current flight path
- Boston A350
More information
Highlights
Plane printing first 3-D mass-produced components
Fuselage construction 1,000 rivets and no mistakes
CFK wings the more layers, the stronger they are
Striking results repairs using Speed Tape
Acceptance flight a test drive in the sky
Roll-in the welcome party of the year
Iron Bird inside Airbus's restricted area
Wallpaper images screen art from flights
The pilot steers the command center thinks
The PEFB all original documents in PDF format
Cutting edge a jet of water at the speed of sound
Learning from past the A350's new safety features
Great together in the cockpit and in the commen­tary
All-engine flame-out simulating the worst-case scenario
Flight data
Flight no.: LH424
Aircraft: Airbus A350
Run time: 140 min
Crew
Captain |
Martin Hoell

Captain |
HansPeter Jaehner
Images