About
- PilotsEYE.tv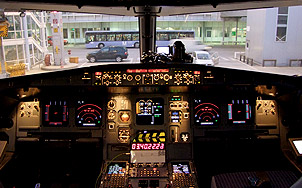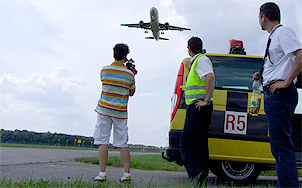 PilotsEYE.tv shows the fascination of flying through the eyes of the pilots –
condensed into the most interesting moments in hitherto unknown quality, in HD-TV 1080i as well as normal DVD-PAL quality.
The six installed high definition cameras capture every hand movement and every radio message, the specially developed recording technology guarantees authentic audio and picture quality. The crystal clear sound means even viewers without flying experience can understand every command. Every episode features english subtitles.
Enjoy a privilege no longer available to regular passengers and let PilotsEYE.tv be your personal ticket to the reserve seat (jump seat) in the cockpit.
Experience the fascinating workday routine in the cockpit before, during and after a flight.
With PilotsEYE, you can hear every command, every relevant radio message and every interesting sound… of which there are many on our long-haul flights. Particularly interesting is also the contrast between the almost military communication style at take off and landing and the laid-back atmosphere later on where the pilots chat and chuckle, eat and joke like anywhere else… But never compromising safety and always ready to intervene in the flight operations at a moment's notice. See for yourself!
AignerMEDIA GmbH specializes in synchronized multi-camera recording in HD.
In doing so, it focuses on tapeless recording and places that are not easily accessible. Its technology is continually updated to keep pace with cutting edge industry developments. On may 1st 2007 AignerMEDIA broadcasted LIVE-HD Pictures into the cabin, where HD-Screens had been mounted for this unique event. This installation was the first of its kind worldwide.
The finished sequels show 60-80 minutes of the most interesting incidents, the most beautiful clouds and landscapes – underlaid with easy music- as well as checkpoint, takeoff and landing in the greatest of detail. And as a "reward" for having flown all this way, most of the sequels are rounded off by a short compilation of impressions of the destination… .
PilotsEYE.tv is aimed both at regular passengers and flying enthusiasts.
Precise Airroutes analysed by Garmin, visualised through Google Earth. All aeronautical charts by Jeppesen (Boeing) and LIDO (Lufthansa-Systems). Postproduction on AVID Symphony DX and workflow-support by DVE.
Technology is explained in simple to understand. English subtitles can be displayed during the German conversation.
Subtitles: English
Region Code: all areas (no restrictions)
Format: PAL (European norm)
DVD will play on many NTSC-DVD Players but will play on any PCs worldwide.
Blu-ray will play on most US-Players, but will also play on any Blu-ray PCs worldwide.
Comments: "It feels like riding the jumpseat", "Flying is not only their job, it's their passion in life"
Images
Awards
Intermedia Globe in Silver for PilotsEYE.tv

Contact
PilotsEYE.tv is produced by
AignerMEDIA GmbH
on behalf of HDC GmbH
HDC.de High Definition Content GmbH
Münchener Str 14
85540 München-Haar
Tel: +49 (0)89 42705.0
Fax: +49 (0)89 42705.199
Mail: kontakt(at)pilotseye.tv
About High Definition
All you need to know about HD!